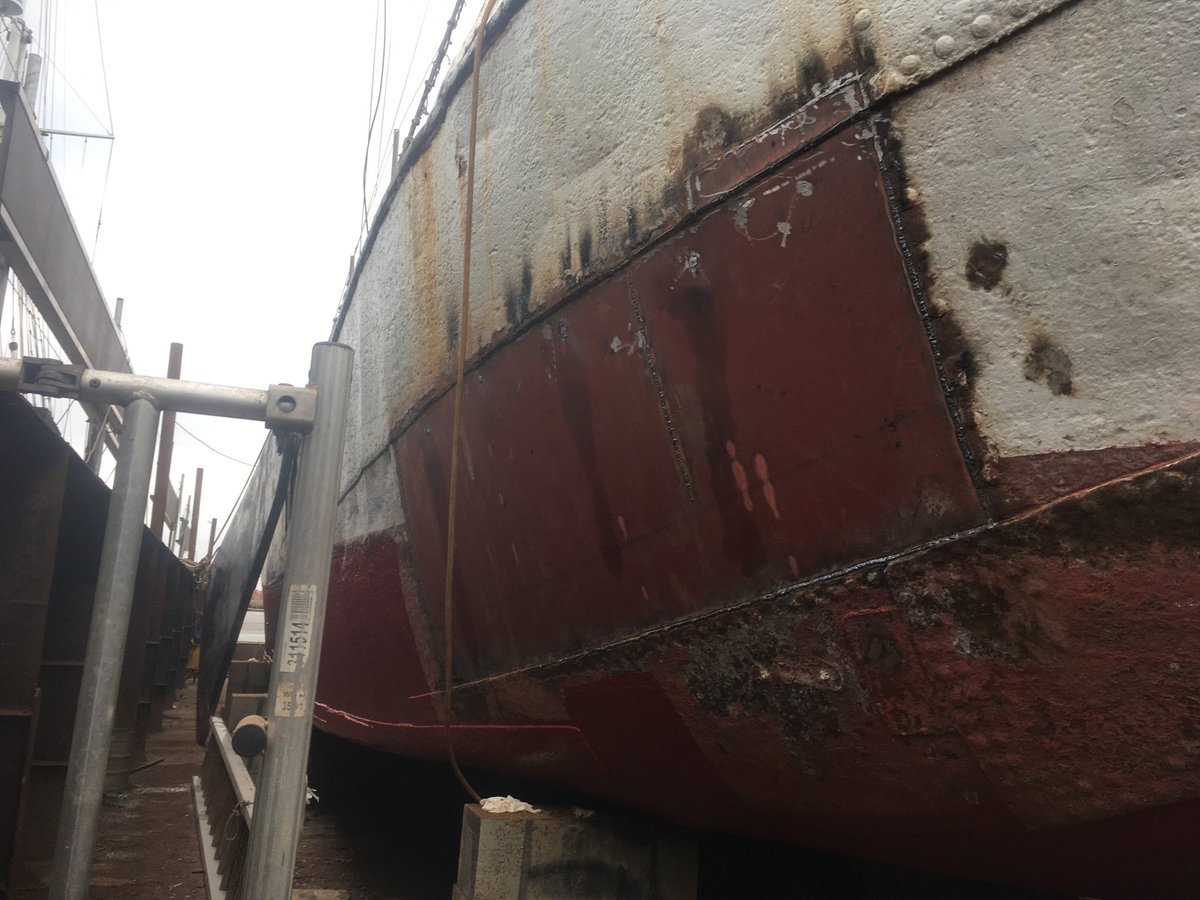 UHP Water Blasting and vapor blasting for Surface Preparation for Steel Hulled Vessels
Heritage Marine can carry out Ultra High Pressure (UHP) Water Jetting/Blasting for the removal of old paint systems and rust from Steel hulled vessels. UHP blasting is the modern, environmentally friendly way of preparing a surface for coatings application.
Even the most modern or expensive coatings will fail if the surface is not properly prepared, UHP Water blasting provides the cost effective solution for surface preparation in marine sector.
Operating up to 44,000psi (3,000 bar), our( brand new in 2021) UHP Blasting unit enables us to remove any coating, taking the substrate back to its original profile, and unlike other "traditional" surface preparation methods, ensuring the surface is completely contaminant free. The fresh water blasting will remove not only the visible surface coating but will clean away the salt deposits that be left behind with conventional grit blasting.
Surface preparation to WJ-1 is achievable and with the modern two pack paints which we can apply the degree of flash rusting created by water blasting is perfectly acceptable. We can spray coat your steel hull after blasting with a range of modern two pack or single pack paint systems. One of major advantages that UHP blasting holds over abrasive blasting is the effect on the environment, Abrasive blasting creates several environmental and health and safety issues, it creates a cloud of dust, covering everything in the vicinity with a fine abrasive layer of dust, you end up with a pile of grit on floor as well as the surface coating you have removed, with UHP balsting the only arisings are the redundant surface coatings which when dry can be swept up and disposed of safely, you have none of the contamination from dust, and none of the purchase, cleanup and disposal costs for the used abrasive.
Heritage Marine also run the most up to date Ecoquip 2 Vapour blasting plant for more delicate and hard to reach areas. The advantages of using an abrasive vapour blaster over dry sand blasting are numerous, but the top benefit is you'll eliminate up to 92% of airborne dust, while also saving on cleanup and disposal costs. And compared to slurry blasting (aka wet blasting), you'll use far less media and water. More importantly, you won't damage substrates when blasting with Graco's Vapour Abrasive blasters, which also makes them ideal for restoring historically significant structures and vessels including GRP and Wood.